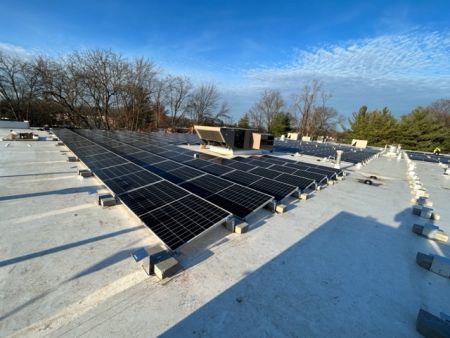 FAIRFIELD, NJ–Rensselaer Commercial Properties has partnered with ECS Energy to launch a renewable energy initiative aimed at reducing energy costs and carbon emissions starting with the installation of a solar array at their 10 Plog Road property in Fairfield.  Once online the 242.19 kW solar array will generate roughly 280,000 kWh per year which will offset about 90% of the tenant's annual usage. Financing for the project is being provided by Valley Bank.
"We recognize that small to mid-sized real estate firms have an opportunity to take a leading role in the transition to clean energy," said Rensselaer Commercial Properties CEO Christina PioCosta-Lahue.  "It is clear that, beyond reducing carbon emissions, investing in renewable energy will allow us to deliver even greater value for our tenants," she continued.  
Valley Bank is helping to provide the financing for the project and ECS Energy, a NJ-based full-service solar contractor who handled all aspects of the project from design to installation and through grid interconnection.  This project marks Valley Bank's continued foray into commercial renewable energy project financing.  
"We view renewable energy projects as an area with significant growth potential for Valley Bank," said CJ Coiley, Commercial Real Estate Relationship Manager at Valley. "We have long partnered with Rensselaer Commercial Properties on financing for their real estate projects and we are pleased to assist them in their effort to develop clean energy solutions on their properties," said Coiley.  
Pete Ramsey, Partner, said, "We are seeing increasing demand across New Jersey for on-site solar for a variety of businesses."  Ramsey continued, "This project demonstrates that, with a clear-eyed view of how to provide value as our economy transitions to clean energy sources and access to committed financing partners, on-site solar is well within reach for businesses of all sizes."  
The solar industry has been growing rapidly, with equipment becoming more economical and with it, the ability for commercial real estate firms to make a bigger impact with sustainability initiatives.  According to the Solar Energy Industries Association, a national trade group, less than 1% of commercial electricity demand is currently met by solar.  Nationwide, the growth in installation of commercial on-site solar has fluctuated since 2012, with reliable financing only now becoming more available. 
"Valley Bank and ECS Energy have been invaluable partners in the process of developing this project," PioCosta-Lahue said.  "A big lesson we take away from being a third-generation family business is that adapting to new realities in the market is important, but even more crucial is being able to lead the market at strategic points, whether that be customer service, the types of space and amenities we offer, and today, we're looking at renewable energy and sustainability."
"Renewable energy is a significant value-add for tenants," said Mohit Jain, President of Carecam International, who operates a climate-controlled packing facility at the 10 Plog Road property.  "Our operation is energy-intensive, so the addition of renewable energy to our facility makes business sense and helps us reduce our carbon footprint," Jain continued.
Also featured in TapInto West Essex!